UNLOCK THE SECRETS OF SICILY
Sicily, the largest and most magical island in the Mediterranean, will enchant you with its beauty, history, and gastronomic delights. One visit is all it takes to begin a life-long love affair.
Sicily, our "Patria", where glowing volcanoes illuminate the night, and spectacular mountain ranges loom over the tranquil aquamarine sea and pristine beaches. Where picturesque medieval villages, surrounded by undulating valleys, and ancient coves, meet perfectly preserved Greek temples. And being Italy, you're never far from a sumptuous local delicacy!
Only through LIVIN'Italy – with our intimate knowledge of Sicily, our friends on the ground, will you discover extraordinary beaches, culture, fascinating history, gastronomy, unique experiences with such a friendly local touch. If you've never been, what are you waiting for? If you've been before, then it's time to start planning your return with LIVIN'Italy True Italian Adventures!
ACCOMMODATION
Accommodation is provided on all True Italian Adventures. Every adventure to Sicily can be different, whether you want a self-catering apartment or a refined sea view hotel room.
FLIGHTS
You are free to organise flights that best suit your schedule, your budget and your needs. We are here to offer support and advice to ensure the smooth running of your experience while leaving you independent to make your own flight arrangements.
EXPERIENCES
We specialize in experiences, whether you prefer to spend your time relaxing & recharging on the beach, being active, taking part in adventurous activities, learning about the culture & heritage, we can organize an infinitive amount of experiences that will match your desires! Tell us what you like doing and we'll sort the rest!
Experience a world of gastronomic pleasure
Sicilian cuisine is unique, inspired by the fusion of cultures that make up Sicilian history – Greek, Norman, North African, Spanish and Arab. A world of aubergines, almonds, pistachios, fresh seafood, tomatoes and chocolate.

Let one of our local friends take you on a tour to tantalise your tastebuds. We offer culinary experiences where you can see the preparation of (and of course taste!) traditional artisan Cannolo, Pecorino cheese, fresh ricotta, honey and sumptuous local wines. You can tour local markets, where you'll buy fresh Sicilian ingredients to cook under the guidance of a master chef. Or even scale Mount Etna to experience its magnificent vineyards. Ancient writers and poets sung the praises of Mount Etna wines – soon you can too!
An unparalleled world of cultural wealth
Sicily is dripping with culture. You can't go anywhere without bumping into some evidence of its 3,000 year old history. As a stepping stone between the great civilisations of Greece, Rome, Arabia, Phoenicia, the Norman Dynasty, and many more – Sicily is a treasure trove of beautifully preserved ancient temples, statues, and UNESCO World Heritage Sites.

Book one of our culture tours and our local guides will take you to sun-kissed Greek temples, incredible statues of Hercules and Zeus at the Valley of the Temples, the historic city of Siracusa – one of the oldest Greek colonies in Sicily – the island of Ortigia, the Temple of Apollo, antique cathedrals and churches, and so much more.
Historic towns,
majestic landscapes
Inland, Sicily is a mosaic of undulating hills, vineyards, sweet blossom and olive trees – with charming historic towns and the magnificent Mount Etna ever present in the background. Let our friends take you on an excursion to this magical countryside! Watch the lava flow from Mount Etna, surrounded by lush green valleys. Have a day to remember discovering Sicily's heritage towns of Marina Di Ragusa, Scicli, Modica, Ragusa Ibla and the beautiful Hyblean Garden, looming imperiously over the Irminio river valley. You can visit palaces, convents, baroque churches, built from the Byzantine period to the 18th Century. Or perhaps you'd prefer to follow ancient trails on a donkey trek, enjoy majestic landscapes, be charmed by the Ionian coast, or even visit locations of The Godfather!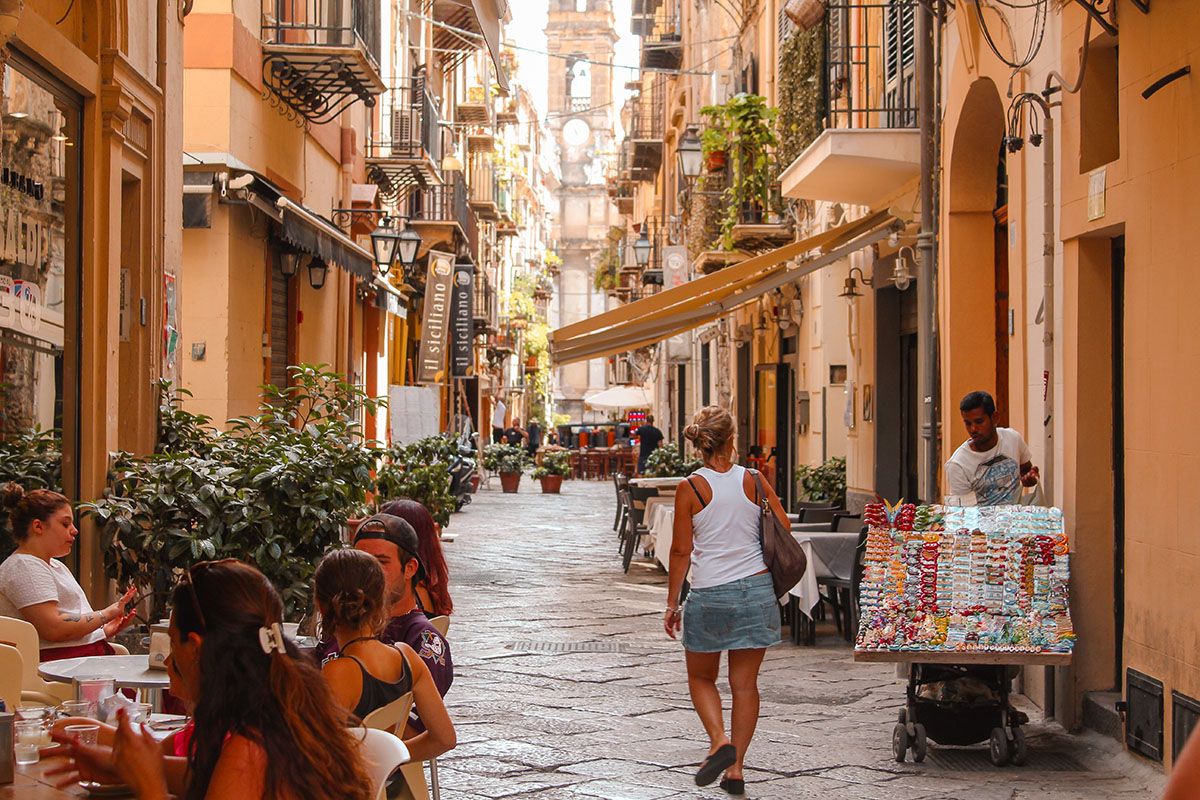 Immaculate seas and
phenomenal beaches
If being on land doesn't float your boat then why not luxuriate on Sicily's incredible variety of beaches… Where the sands can be white, golden, volcanic black or pebbly. See the "Scala dei Turchi", a dazzling-white rocky formation emerging from azure waters. Explore the vertical walls in the bay of the "Grotta Azzurra" (blue cave), go snorkelling at Giardini Naxos and Taormina, or take a cruise to the "Grotta degli Innamorati" (love cave), and the famous Isola Bella; also known as the 'Pearl of the Ionian Sea'.

Take a refreshing dip in the crystal clear waters off the Ionian coast, enjoy Almond Wine with Sicilian cookies, or a 'floating aperitivo' offered by the captain of a traditional Sicilian fishing boat. Come on in, the water's fine!
Build Your Own Experience
Build your own experience with True Italian Adventures. Start with our base then add on extra's, to unlock the secrets of Sicily in a way that suits you. Our dedicated concierges have created the perfect foundation, to begin with, starting from just €360.
Prices start from €360, including:
7 Nights' accommodation in 3* Hotel (with swimming pool & 100m from the sea)

Breakfast

Bottle of Wine on arrival as a LIVIN'Italy Welcome Gift

Boat Tour

Jeep Excursion to Europe's Highest Active Volcano ETNA!
Extra's you can add:
Split your week between 2 wonderful Sicilian destinations to get a double experience in just one holiday!
Add lots of different services & fun activities of your choice:
Airport Transfer

Sicilian Cooking Lessons 

Scuba Diving 

Snorkelling

River Trekking

Canyoning

Wine Tasting

Cannolo Making

500 Vintage Car Tour

GodFather Tour

Inspector Montalbano Tour

Syracuse

Marzamemi

Palermo

Cefalu'

Panarea & Stromboli

Lipari & Vulcano

Alcantara Gorges 

…. And so much more!
Let us tailor-make your holiday to Sicily, we will give you the ideas, give you the support and do all the planning/work for you BUT the choice, the budget & the time is completely YOURS! Don't miss out on an incredible Sicilian Adventure & let us help you create some wonderful summer memories that will stay with you forever!